Medical & Healthcare Mobile Apps Development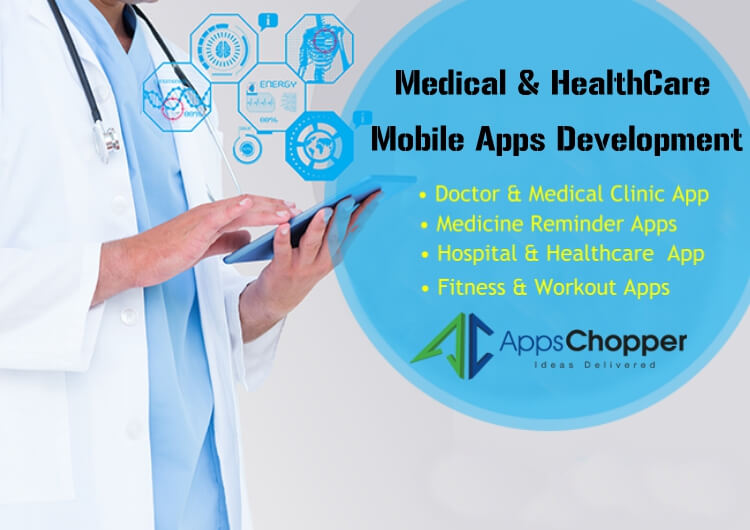 "Health is wealth & mobile apps are making it possible for you."
The adoption of mHealth technologies defines their significance in the progressive rise of healthcare industry. No doubt, healthcare mobility solutions has eased the process for patients, doctors, and various healthcare organizations. More than 165,000 mHealth apps are already competing to help consumers with various health issues & lifestyle challenges.
Mhealth stands as the future of healthcare. More than 80% physicians access mobile apps. According to Research2guidance report, the demand of healthcare mobile app development will increase among hospitals, physicians, & pharmacies. The success of Mhealth goes well in favor of its distinguishable role in the ever-evolving healthcare & medical sector.
Patient engagement is one prominent factor to justify that how are mobile apps extend the growth scale of healthcare sector. However, these factors define the role of mobile apps behind the rise of healthcare industry:
• Convenience & real-time access
• Reach out patients
• Accurate clinical facilities & specialization
• Patient record maintenance
• Push notifications & feedback
• Prescription from health experts
Let's interpret our factual outlook in favor of numerous health-related app categories & their healthcare mobility solutions :
1). Doctor & Medical Clinic App Development:
Today, more than 93% doctors admit that hospital app development offers countable opportunities to improve patient's health. mHealth introduced the most simplified way of interaction between doctors & their patients for prescription, diagnosis, medical appointments, patient's medical history, or other clinical procedures.
Patients count on doctor clinic apps for convenience & various other benefits. While physicians consider online doctor appointment mobile app development to deliver optimal patient care with reduced complexities. mHealth is the best way to monitor multiple treatments & keep electronic medical records on track.
Interestingly, over 93% healthcare specialists reveal that doctor apps made it easier for them to handle more & more emergency cases. Medical records apps for doctors & doctor appointment apps made patient care easier, efficient, & quick. So, now you can say that medical apps for patients & doctors stand as a base for the betterment of healthcare.
Get in Touch for Medical App Development Contact US
2). Medicine Apps Development:
The alarming rise of mHealth apps corresponds to its requirement in the pharmacy sector. Patients & medical agencies are switching to mobile app for medical emergency as automation offers effortless management of medicine inventory.
What are the best app for healthcare? Several medical practitioners & pharmaceutical centers opt for medical app development services to get medicine apps. Many healthcare organizations aspire to discuss their ideas on medication reminders, pill trackers, & emergency medicine apps. Many people ask about the cost of developing an app like Practo as patients use them to order medicines. However, the costs differ as per the project, features, & technologies used for app development. It simply means that these types of mHealth apps are the best.
3). Hospital & Healthcare Mobile App Solutions:
Hospitals & clinics serve patients in a well-organized way. Patients often take appointments to visit their doctors & avoid last moment hassle. A hospital app can monitor staff & their tasks. Check out few benefits of developing a mobile app for hospital:
Optimal treatments:Hospital apps help doctors in many ways. A doctor can monitor a patient's treatment plan & prescriptions with feature-loaded mobile apps for healthcare. You can also check out the latest treatments & medical facilities of a nearby healthcare center.
Hospital's Photo gallery & virtual atmosphere- Several hospitals add photo galleries on their online portals. Patients use healthcare apps to locate nearby clinics or hospitals. So, healthcare providers can take benefits & build their credibility with photos & virtual atmosphere on their mobile app.
Documentation & billings- Keeping health records & bills becomes a simple task with a health record app. A mobile app for medical emergency is developed to handle urgent cases with right health details of a patient.
Staff management- All health departments can work efficiently with proper management. Doctors, nurses, & other staff members divide their tasks and handle them in a right manner.
4). Fitness & Workout Mobile Apps Development:
People are getting health conscious. Hence, the demand for fitness & workout apps is on rise. You can find numerous fitness & daily workout apps in the list of the best medical apps for android & iOS. Here is a fitness & workout category if you want to get a healthcare mobile app with creative ideas:
Daily Workout Apps- Include gym sessions & exercise routines
Fitness App- Track overall fitness with weight management, BMI, & diet rules.
Trainer-finding app- Discover nearby gyms, connect with trainers & gym experts.
Get in Touch for Custom Healthcare App Development Contact US
Now, it's clear that healthcare mobility solutions contribute in the medical sector. You can rely on our healthcare mobile app developers if you want to transform your mHealth ideas to reality.